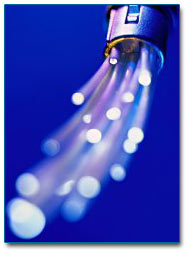 ICA Wireless is now offering fiber optic services for business.
ICA Wireless fiber optic internet offers maximum performance, maximum reliability and maximum customer satisfaction for even the most demanding businesses. For the businesses that want the best, now is the time to upgrade to the fastest, most secure and reliable internet service in Ontario.
Speed: 1.5-250Mbps
Monthly Access Fee: Call for details
Other Features: Static IP, 24x7 Monitoring, 99.99% uptime guarantee

Advantages of Fiber Optics
Why are fiber-optic systems revolutionizing telecommunications? Compared to conventional metal wire (copper wire), optical fibers are:
Digital signals - Optical fibers are ideally suited for carrying digital information, which is especially useful in computer networks.
Less expensive - Several miles of optical cable can be made cheaper than equivalent lengths of copper wire. This saves your provider (cable TV, Internet) and you money.
Higher carrying capacity - Because optical fibers are thinner than copper wires, more fibers can be bundled into a given-diameter cable than copper wires. This allows more data lines to go over the same cable, therefore alowing for much greater bandwith.
Less signal degradation - The loss of signal in optical fiber is less than in copper wire.
Light Signals - Unlike electrical signals in copper wires, light signals from one fiber do not interfere with those of other fibers in the same cable.
Non-flammable - Because no electricity is passed through optical fibers, there is no fire hazard.